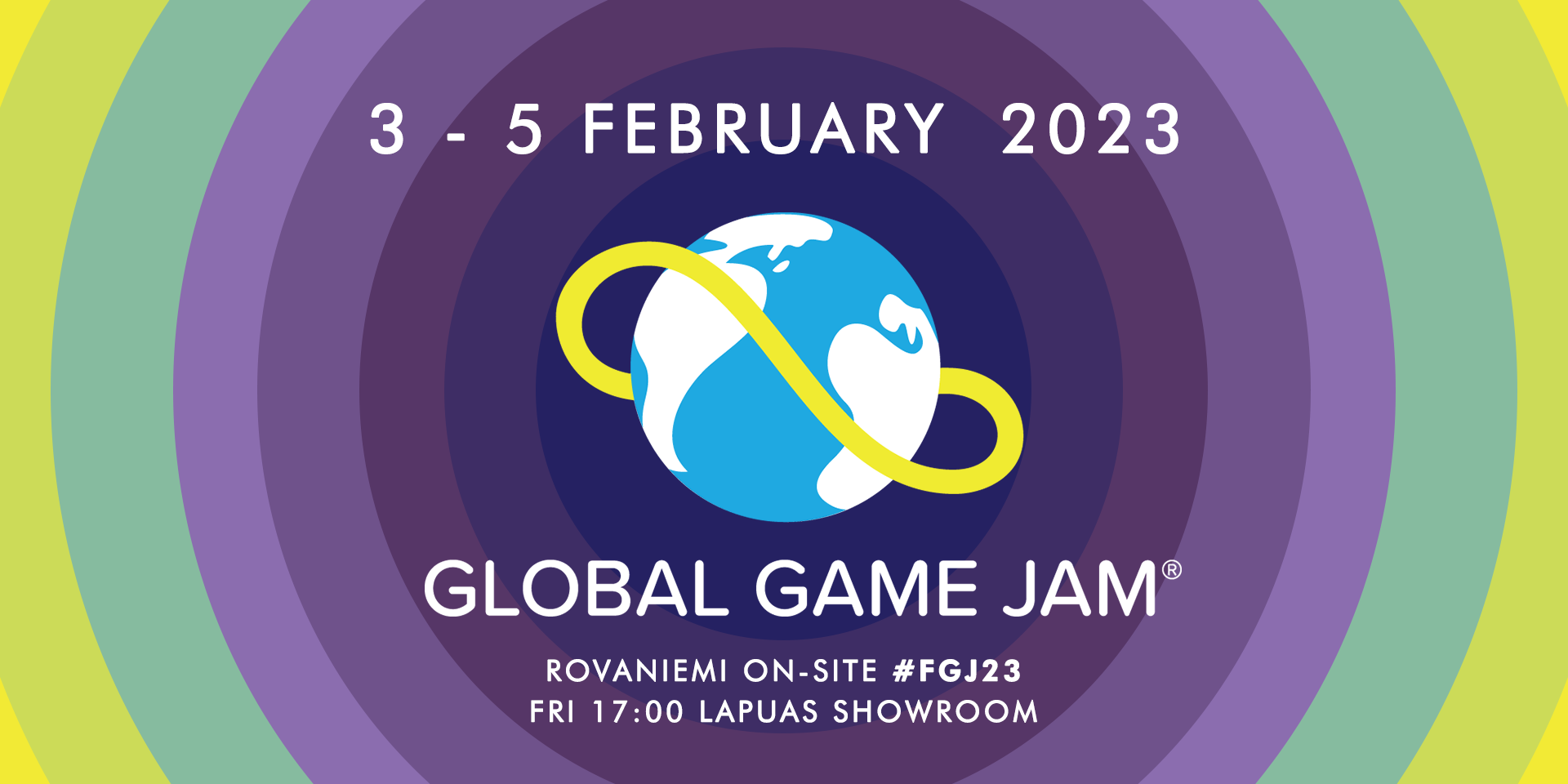 Global Game Jamit 2023 start on Monday 30th in January, and last until Sunday, February 5. Most of the event organizers hold jams on the weekend – as well as the IGDA Rovaniemi hub!
IGDA will organize the #FGJ23 event site in Rovaniemi, on the premises of LapUAS (Showroom), on Friday 3rd February from 17:00. The event organizers do not offer computers, monitors or drawing tables, but if you are a university student in Rovaniemi, you can request a computer and monitors through the teachers in advance. The event borrows keyboards and mice, as well as some limited craft supplies for making board games (however, be prepared with your own board game supplies, you can ask Tuuli Nivala for more information about current materials -> first name.surname [at] lapinamk.fi).
In the Showroom you will have tables for your computer setups, LapUAS and Lumen has refrigerator and a microwave for cooking, and there will be free coffee and tea. Take enough food and drinks with you for long jamming. Snacks can be bought throughout the weekend at Café Lumen's self-service kiosk, and the nearest Sale-store is not far away. In the evenings, it is possible to go to sauna in LapUAS' premises, so bring a towel!
The event has the following opening hours:
FRI: 17 – 02
SAT: 08 – 02
SUN: 08 – 17
The event happens through the GGJ website and you have to register to the venue there – the final jam productions are also uploaded there! Create an account on the GGJ website and register to the Rovaniemi site. Book yourself a spot also through Eventbrite. When you arrive at the venue, you will receive more information about the facilities used and any event practices.
More Info about Global Game Jams
All the necessary jamming info can be found on the GGJ website. The theme will also be published on their website!
If you have questions about the practical aspects of the event, please contact:
Jalonen Jere, 044 5511889

Questions regarding the official GGJ will be forwarded by the IGDA Rovaniemi hub leader:
Samuli Valkama (samuli.valkama [at] igda.fi)