The Smart and Secure Energy Solutions for Future Mobility (Energy ECS) project started in 2021, and we in the lab have now stepped along in the journey.
This ECSEL-IA project explores the smart energy solutions of the future, paving the way for a new kind of European business and technology ecosystem. The entire project consortium includes 16 SMEs, 8 large companies and 6 training and development organizations from eight different countries: Finland, Germany, Austria, Switzerland, Iceland, Sweden, Ireland and Italy.
The project will implement six interlocking UCs (Use Cases) to find solutions to the challenges and future needs of ICT infrastructures and electronic devices. The key focuses in the Use Cases are smart drones, intelligent transport containers, microgrids, vehicle charging technologies, self-powered tire systems, and the independent driving of an electric car to a charging station. The main responsibility of the FrostBit laboratory is the last of these, i.e. driving the e-vehicle to the charging station (UC6).
Independent electric bus parking
FrostBit's part in the project includes implementing a digital twin at the Icelandic Strætó bs bus station, which aims to serve as a safe test environment. UNIKIE's control system reads data from virtual sensors, on the basis of which it directs 3D-modelled buses from the parking screens to the charging point and back.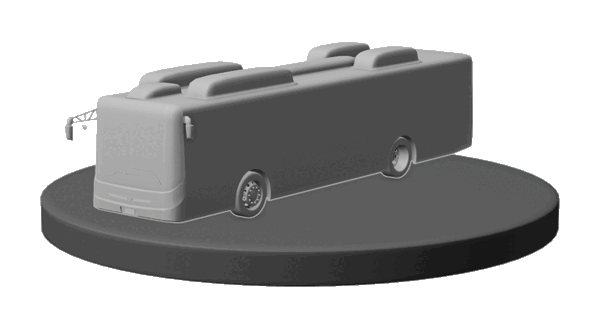 Currently, the necessary data transmission buses and user interface have been designed and implemented for the simulation. The 3D model of Strætó's bus is almost complete and the station's 3D modelling is about to begin.
So, what is expected to be the final result of this Use Case? As a result, the simulation is intended to act as a test environment before buses start moving in the right environment – allowing for controlled and safe testing.
Read more about the project in its official site and in LapUAS current news!

—— 8.3.2022 ——