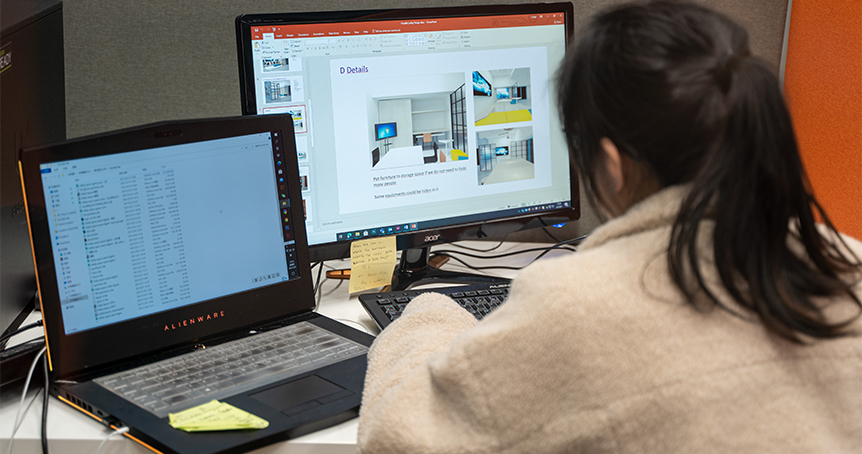 Besides being an intern in the FrostBit Software Lab, I am also a PHD student major in service design in the University of Lapland. I am very honoured to be an intern student in FrostBit. I got a chance to apply to UX and service design in different projects, and I am happy to tell you about my experiences.
What is UX and service design?
Recently, UX design and service design have been very topical: you maybe have heard about many products and software applied with UX design and service design principles. However, what exactly is UX design and service design?
UX means User Experience. Normally, in terms of design software, UX designers focus more on the logic in software. Through UX design, users will not feel confused or get lost in the 2D (applications, website and etc.) or 3D (VR or AR technologies) worlds. In most situations UX design links closely together with UI design (User Interface design).
Until now, there is still no single official definition to point out what is service design. From my own understanding, the key point in service design is "empathy", which means that service designer must think of the "service process" from all stakeholders' perspectives. For example, if you are developing a B2C websites, customers and staff who used the websites, as well as even some third parties are included as stakeholders. Furthermore, service design involves the whole process given the process design solution. Let me demonstrate you an example with a restaurant: when you first time see the logo and face of the restaurant, the service design already begins. The dining environment, taste of food, personal service and even the feedback you give yourself – all of these can be part of service design processes.
From my perspective, service design is more like a strategic design: in addition to the product itself, service design provides a more efficient and valuable design process solving through the "pain points". Service design has a broader scope, which does not only include UX design, but also graphic design, product design, information design and so on.
Below, you can see a basic design process that I always follow: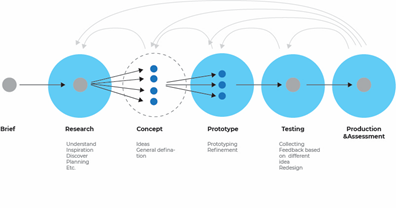 How did I end up in UX and service design in the FrostBit Software Lab?
During my intern period in FrostBit Software Lab, there are two main things I have done: one is re-designing the FrostBit websites and the other one is doing interior design to the lobby outside the lab office. You could think that the website design is connected to the UX design and service design – which is true. In my design process, I implemented animations for the website, which could catch customers' glance immediately when they arrive at the website, and push them to pay attention on the important information on the site. Moreover, some icons are combined with texts: in this way, the info could be transferred to readers in a very short time. Although there are common tips designers always apply in the web design, what I want to talk about is the way of thinking: thinking for readers and information provider at the same time. When you do it this way, you can define the core of design solution, balance the requirements from both two sides, and understand what is the "empathy " I mentioned before.
The interior design for the lobby has the same thinking process: the process is determining the target group as well as determining the aim and main functions as well as the design elements (for each group) in the lobby. From my experience, I used UX and service design to plan the "big picture" of the lobby, and then use the interior design as a method to apply and show my ideas and design solutions.
During my internship, I did not only increase my basic design skills, but also practiced the key points of service design in the FrostBit software lab. In my opinion, there are three certain key things that you need to keep in mind during design process:
How to increase the value
How to use co-design
What is the new idea or solution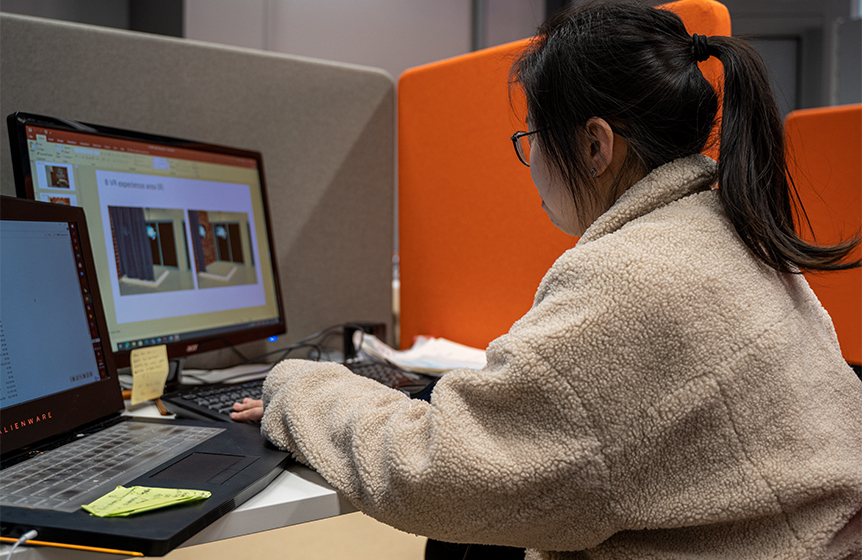 What about the future of service and UX design in FrostBit?
I am definitely sure the service design and UX design have a bright future in the FrostBit Software Lab. No matter how the world is changing, every progress that Frostbit software made could change or instruct people's behaviour. This is why we use service design to see the whole picture and give "correct " directions for our projects. At FrostBit, we are not only applying the "real" design skills, but also the way of "empathy" thinking in our projects and we are continuously working towards ways to establish this. If you want to see how we use UX and service design in our project to create inspiring outcomes, stay tuned for updates on our websites!
—— 10.03.2021 ——
SHARE IN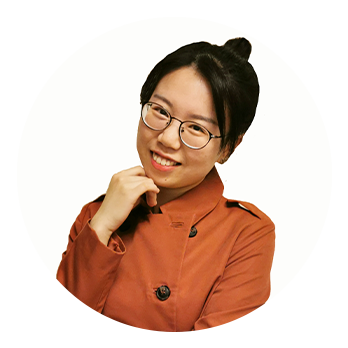 Nan Li works as a specialist in the FrostBit Lab in LapUAS. She is a doctoral candidate major in Service Design in University of Lapland. Service design and graphic design are her main work areas.
—— Doctoral Candidate of Service Design, University of Lapland